Cart Tippers: Installation & Repairs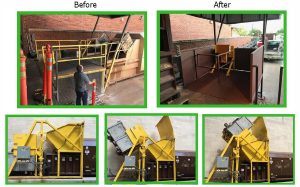 Cart tippers, or cart lifters as they are sometimes called, are specifically designed to lift and empty tilt trucks. The contents are deposited into a larger container or waste disposal vehicle.
Tilt trucks are larger, rolling trash cans or recycling containers. They are extremely heavy-duty and designed with wheels. Tilt trucks are typically a one-piece molded tub that is a standard size of one cubic yard and they can hold quite a bit of material. A standard tilt truck can often hold over 2,000 lbs of waste and a cart tipper is designed to lock it into place and lift it with ease (and without human labor strain).
Tilt trucks combined with a cart tipper make for an extremely efficient waste management system. This system is convenient for places like construction sites, businesses, residential facilities like apartments or condos, and properties like farms where a lot of waste is created daily and needs to be disposed of quickly and regularly.
Cart tippers are helpful when it comes to hauling away trash, bulky items like construction materials that have been disposed of, or heavy recycling like glass. With tilt trucks and cart tippers, employees do not have to strain to lift boxes or individual garbage bags into a larger dumpster or trash receptacle on a property, nor do they have to deal with maneuvering heavy loads.
Cart tipper installation is simple, and it just needs to be located in a position near a larger dumpster or trash receptacle that is removed by a public waste management provider. It is freestanding or can be mounted depending on the situation. Cart tippers are sturdy, and they come with their own motor which maneuvers the tipping or lifting capability. All employees or staff members need to do is roll the tilt truck up to the cart tipper, latch it into place, and use the controls to tip the trash from the tilt truck into the larger container to be hauled away at a later time.
Cart tippers are installed to specific heights and can be modified based on the height and size of the larger disposal container. Because of their simple design and standard size and motor, cart tipper repair is also viable.
Experts Since 1979
Green Garbology offers a selection of different size cart tippers to improve your trash flow process. We pride ourselves in being experts in the trash flow system and our goal is to make buildings healthier and safer through our services. Give us a call and request a free quote today to see how cart tippers can make a difference for your business' trash flow.