Power Pusher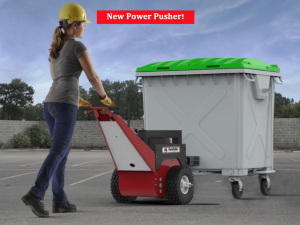 Green Garbology's Power Pusher is a beast of a tool and will be a game changer for your employees and your business.
The Power Pusher is built to deliver 7,500+ pounds of push/pull capacity on level grade. It is heavy-duty, battery-powered, comfortable to use, and simple enough for a single person to operate. This means staff of all types, sizes, and experience levels can be easily trained. It has the capability to drastically decrease a business' need for manual waste hauling processes.
Power Pushers are used in a variety of industries. For a business' waste management system, they are critical for moving heavy trailers, containers, tilt trucks, etc. with ease. This not only allows for increased efficiency and productivity day-to-day by moving things faster, but reduces the physical strain on staff members and crews.
By reducing physical strain, the risk of on-the-job injury and accidents is also reduced. Manual labor injuries like pulled back muscles, slipped disks, strained leg and arm muscles, and larger issues happen when heavy objects fall or tip. They can be drastically decreased with the correct labor tools. Tools like power pushers are helping businesses create a safer working environment for their teams. 
Safer work environments allow staff members to be happier, work more effectively, and save valuable time and money in the long run. This leads to money saved by keeping employees on the job and off of leave or workers' comp because of a workplace accident that could have been avoided.
Our Power Pusher model boasts a wide range of specs that are relevant to many heavy-weight jobs:
Auto latch receiver and attachment
Solid and wide tire design for indoor and outdoor use
Stainless steel top cover for durability and weather-resistance
Acceleration lever for speed control
Battery charge indicator
Clear power controls
Compact design for tight cornering and maneuverability
Quick-release for safety
24-volt system
The Power Pusher is mighty, but it is also small enough to be stored in a variety of spaces and tucked out of sight at the end of the day. 
Solutions That Are More Productive and Safer
At Green Garbology, we've been improving business' waste management processes for over 40 years. Give us a call and request a free quote to see how our Power Pusher can make your team more productive and your work environment safer. It's a win/win all around, and this is just one of our service options. We will be happy to show you more.