Trash and Recycling Services in Oklahoma City, OK
Trash Chute Installation, Sanitation, and Repair in Oklahoma City, OK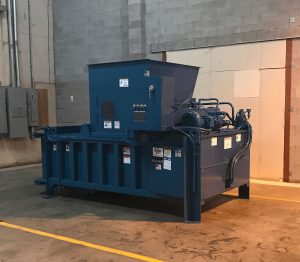 If you are the owner of a larger business complex or residential building, you know how important your waste management system is to the daily ebb and flow of your operations.
Controlling trash and recycling in a high-density population building (whether commercial or residential) is quite the undertaking. There is a lot of time, effort, money, and strategizing that goes into creating a system that works smoothly.
A big part of that system is the trash chute setup.
A building's trash chute (or chutes) directly contribute to a building's residents, janitorial staff, and contractors being able to dispose of waste quickly and efficiently. Trash chutes bring all refuse into a central location so disposal can be streamlined and then removed effectively.
The correct installation, sanitation, and repair processes for a trash chute are important to ensure there are no unnecessary backlogs (or bottlenecks) in the larger waste management system. They are also important factors in the reduction of odors, pests, mold/mildew, vermin, and bacteria caused by the waste produced by a larger facility full of people.
Why Choose Green Garbology?
At Green Garbology, our goal is to have your larger businesses and residential buildings operating as seamlessly as possible by providing you with the tools and the know-how to put the best waste management system in place. We are proud to be your waste management partners and have over forty years of experience under our belts.
Not only do we specialize in important overall waste management system pieces like trash chute installation, sanitation, and ongoing repairs/maintenance, but we also have a wide range of services across a variety of building needs:
About Oklahoma City, OK
Oklahoma City is a bustling capital of almost one million people, and the population has shown an increase every year since 2016. With so much potential for businesses and residents alike, building owners and building/facility managers need to have the best waste management systems in place.
Green Garbology is here to help the building owners and facility managers of Oklahoma City support this influx of entrepreneurs, employees, and residents by providing the top waste management solutions possible.
Top-Notch Equipment Combined With High-Quality Customer Service!
You do not get to stay in business for forty years without having a model designed around providing the best equipment and the best customer experience around. At Green Garbology, our mission is to keep businesses running smoothly by providing the best waste management equipment, systems, and processes in place (while also making employees and residents happy and supporting keeping them healthy).Give us a call or complete our online form for a free quote or to learn more about our philosophy to waste management control and service options.